Please note: This colloquium is on a Tuesday from noon to 2pm.
"Afro-Diasporic Alchemists: We Got The Gold"
Alexis Peskine's signature works are large-scale mixed media 'portraits' of the African diaspora, which are rendered by hammering nails of different gauge, with pin-point accuracy, into wood stained with coffee and mud. By applying gold leaf to the nails he creates breathtaking composite images. He depicts figures that portray strength and perseverance, with energy reminiscent of the spiritually charged Minkisi 'power figures' of the Congo Basin. Peskine also produces striking photography and video works.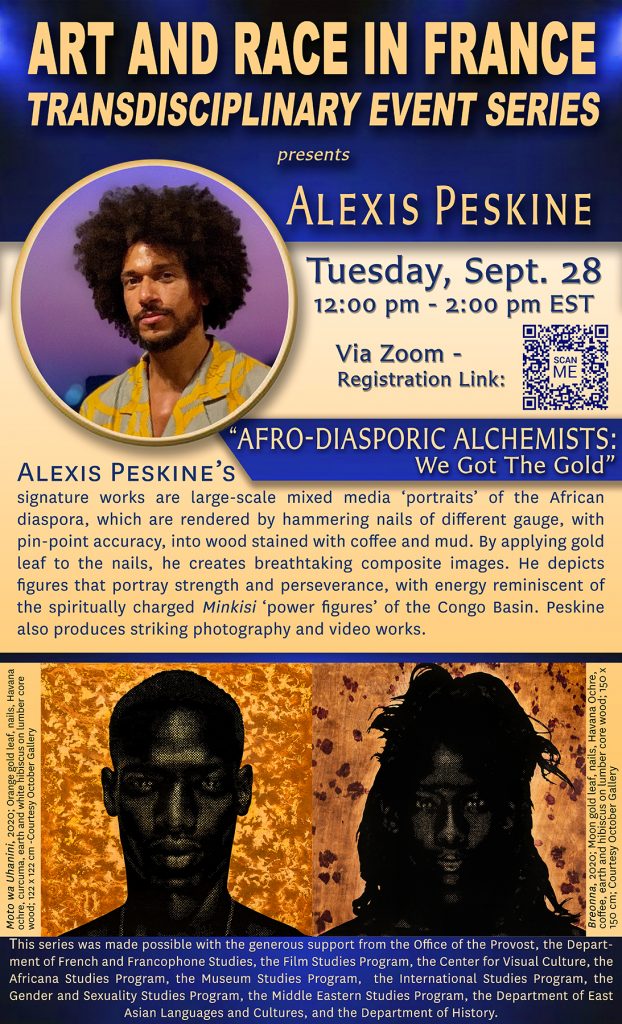 ART AND RACE IN FRANCE
This series was made possible with the generous support from the Office of the Provost, the Department of French and Francophone Studies, the Film Studies Program, the Center for Visual Culture, the Africana Studies Program, the Museum Studies Program, the International Studies Program, the Gender and Sexuality Studies Program, the Middle Eastern Studies Program, the Department of East Asian Languages and Cultures, and the Department of History.