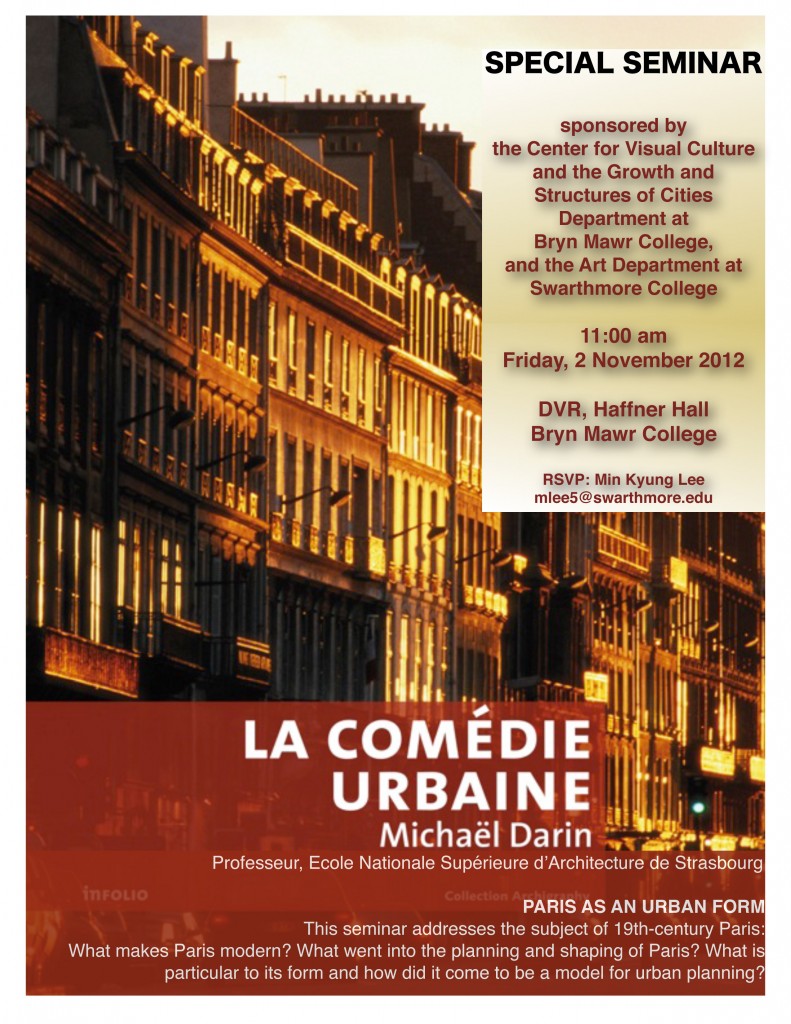 The Center for Visual Culture and the Department of the Growth and Structure of Cities at Bryn Mawr College and the Art Department at Swarthmore College are offering a special seminar on 19th-century Paris and have invited a scholar from Paris to address the subject of modern urban planning.
"La Comédie Urbaine" : Paris as an urban form
What makes Paris modern?  What went into the planning and shaping of Paris?  What is particular to its form and how did it come to be a model for urban planning?  How is its form studied?
Michaël Darin, Professor at the Ecole Nationale Supérieure d'Architecture of Strasbourg, France, has taught and published widely in the field of architectural history and urbanism, with recent publications including studies on Paris' morphology, "La Comédie Urbaine" (2009) and "Pathworks parisiens, petites leçons d'urbanisme ordinaire" (2012), and various studies on Tel-Aviv, La Roche-sur-Yon and Pontivy, as well as articles concerning the history of the boulevard and topics in 20th-century architecture.
If interested in Paris, urban studies and/or architecture, you are encouraged to participate.  The event will be in English.

11:00  Friday, Nov. 2, 2012
Ely Room, Wyndham
Bryn Mawr College
Lunch will follow the seminar.
Bryn Mawr students, please RSVP to Jeffrey Cohen, jcohen@brynmawr.edu
All other students, please RSVP to Min Kyung Lee, mlee5@swarthmore.edu